British Columbia is known worldwide for its breath-taking wildlife and its unique coastal rainforests. These forests feature some of the world's oldest and largest trees, ageing up to 2,000 years and reaching around 3.5 metres in diameter. These types of trees, referred to as "old-growth", are unique to British Columbia, as well as parts of the Northwestern United States.
This distinct ecosystem is under threat from the constant clearcutting and logging of these ancient trees, an issue which the NDP government has thus far failed to properly address over their three and a half years of leadership in the province of BC.
Leader of the Green Party of British Columbia, Sonia Furstenau, has actively campaigned for the increased protection of old-growth trees or forests from commercial logging, as these trees, and the benefits they provide to their ecosystem, would likely never return once removed.
British Columbia's Old-growth
Old-growth trees serve as highly productive elements in their environment, creating an ecosystem which is unlike anywhere else on earth. The sheer size, and age of the trees has helped shape Canada's coastal rainforests, creating a space for all types of flora and fauna to thrive.
BC's Ancient Forest Alliance provides details on what role these giant trees play in serving and growing their environment. Their functions include:
Providing multi-layered canopies, which different species of plant

s

and animals have adapted to.
Acting as "carbon warehouses", being able to store more C

O

2 than other, smaller trees are capable of, and continuing to increase their storing capacity over their lifetime.
Providing a home to several species of lichens, mosses, fungi, and other bark-dwelling flora. As a result, they support many more unique species than younger, "second-growth" tree plantations.
Having more "woody debris" than younger trees. Dead old-growth provides a myriad of flora and fauna with nutrients, shelter and moisture.
Despite being integral to their environment, their size and quality makes these trees seen as a highly lucrative source to BC loggers. Old-growth trees are substantially larger, denser, and provide much more timber per hectare than younger, second-growth trees.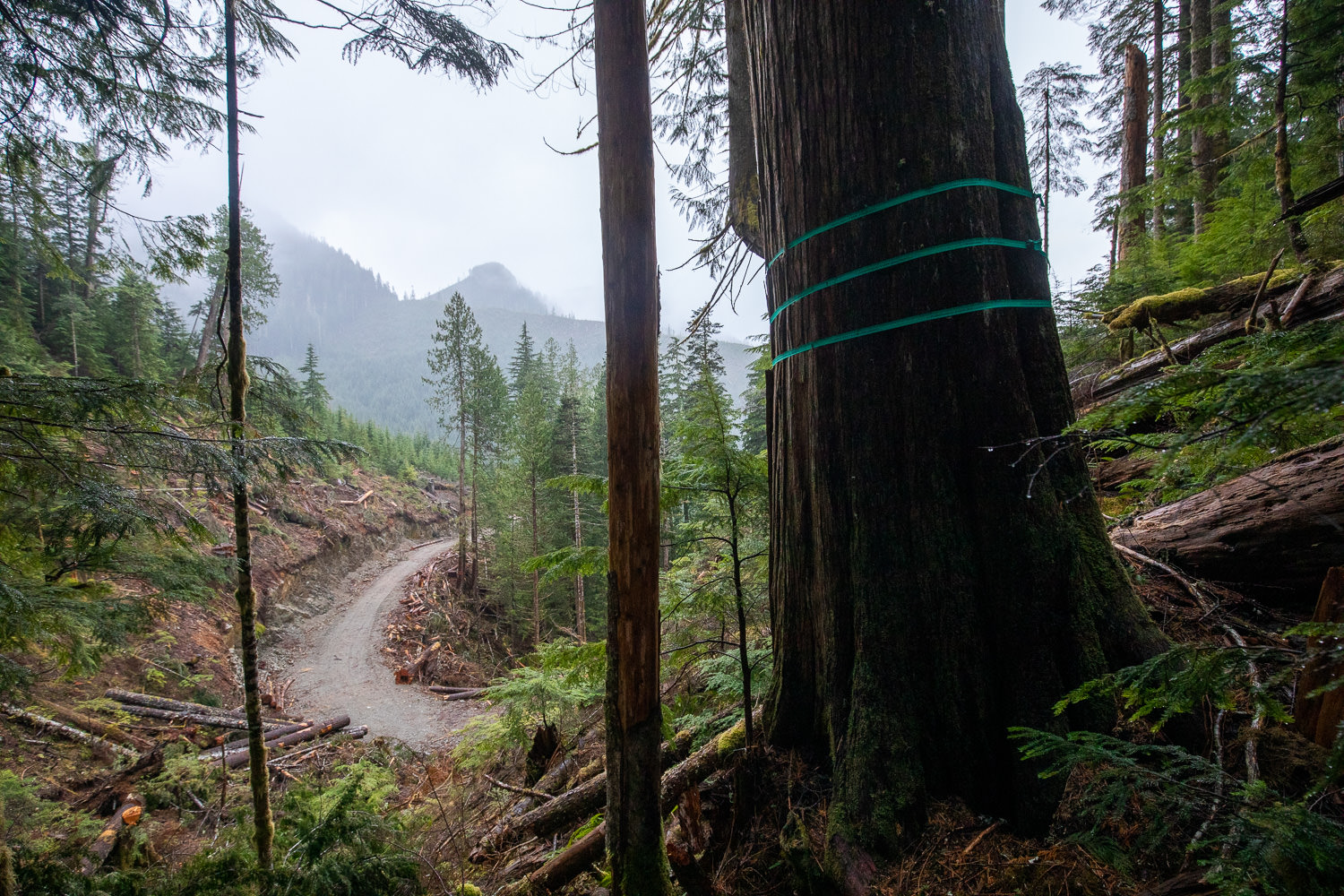 As the normal waiting period between logging forests in BC is 30 to 80 years, once these thousand-year-old trees are cut, it is highly unlikely that the second growth will ever have the chance to grow back and regain 'old-growth' status, thus eliminating the important roles these trees play, and putting the entire ecosystem of Canada's coastal rainforests at risk.
BC Government's Lack of Response
While campaigning in the provincial elections in 2017, and again in 2020, NDP Leader John Horgan promised to protect old-growth while still keeping BC's profitable logging industry from dwindling. However, three and a half years after winning the initial election, the widespread destruction of BC's old-growth continues virtually at the same rate.
In 2019, the NDP came forward with a two-year logging deferral in several areas across BC, totalling 353,000 hectares. However, of this protected land, only a small percentage contains productive old-growth forests, and even included ecosystems where trees grow sparsely, including bogs and mountain ranges.
In their 2020 election platform, the NDP promised to protect BC's old-growth forests, this time putting ecosystem and biodiversity health over all else.
An independent panel was enacted in July 2019, including foresters Al Gorley and Garry Merkel, to review the province's forestry policies. The panel created a report with 14 recommendations that the province must undertake to preserve the health of the ecosystem and old-growth forests, including the ceasing of harvesting old-growth within 6 months of the report. 8 months after the initial release of the report, the logging of old-growth has continued and the 14-point report has not received any firm commitment from the NDP government.
In July, British Columbia's Minister of Forests, Lands, Natural Resource Operations and Rural Development, Doug Donaldson stated to the BC Legislative Assembly that the government planned to work with First Nations' governments in determining the protection of old-growth on First Nations' territory within the coming months.
However, Green Party MLA Adam Olsen pointed out this plan's lack of depth, given the vagueness of any start date, as well as the NDP's blatant disregard for pausing the harvesting of old-growth in the meantime. Five months later, this plan to work alongside First Nations' governments has yet to commence.
The BC Greens' Response
While the NDP government has remained idle in terms of action, the BC Greens have been outspoken about the issue over the past year.
The party has called on the NDP to implement a moratorium on all high risk old-growth ecosystems across the province, and have named the health of biodiversity and ecosystems as an overarching priority of the Green Party in their 2020 provincial election campaign.
During a Legislative Assembly question period in July 2020, Furstenau stated that according to several independent studies using data collected by the province, it was found that the lack of protection for old-growth is inadequate in supporting biodiversity in BC. Furstenau stated: "The status quo puts biodiversity, ecological integrity and resilience at high-risk today".
MLA and former interim Green Party leader, Adam Olsen, described to the BC Legislative Assembly how harvesting old-growth is not only harmful to the environment, but it will be harmful to the logging industry in the long-term.
Olsen states, "As the high-productivity old-growth is harvested, communities will experience a fall-down effect in jobs… as the volume goes down, and the industry logs smaller and smaller second-growth". Olsen goes on to state that the NDP government must enact a plan to transition loggers and logging communities, as to end their dependency on this non-renewable resource.
In a report conducted by independent ecologists Rachel Holt, Karen Price and David Daust, and reiterated by Sonia Furstenau during a Legislative Assembly question period:
"These ecosystems are effectively the white rhinos of old-growth forests. They are almost extinguished, and will not recover from logging."